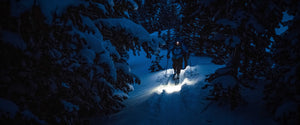 Unfortunately, the only way to know if "dropped" carabiners are fit for use is to test them to their breaking point. This doesn't do you much good now, does it? It's best to inspect dropped gear for dings and significant trauma. If only light scratching is visible and gate action is still good, there is a good chance it is fit for usage. Remember, only you know what your gear has been through and if there is any doubt, it's best to retire the gear rather than take a risk.
Here are our suggestions on what to look for when retiring aluminum carabiners:
1) Check for good gate action: The open-gate strength of carabiners is roughly 1/3 of the closed-gate strength. If a biner has a gate that rubs or sticks open, it should be cleaned and lubed. If this does not improve gate action, the biner should be retired. The same holds true for any gate locking mechanism.
2) Check for excessive wear: If you can feel that the rope-bearing surfaces of the biner are significantly worn (wearing off the anodization is normal after a few uses) the biner should be retired.
3) Check for deformation: If a biner has been loaded such that the body or nose has deformed—or the carabiner gate rivets have been bent (this usually results in poor gate action)—the biner should be retired.
4) Check for nicks or deep scratches: If a biner has nicks or deep gouges beyond the normal light scratching that occurs in use, it should be retired. Carabiners are more susceptible to surface damage near the nose hook or within an inch of the bending radii of the body.
5) Has the carabiner been exposed to extreme heat? If a biner has been exposed to "extreme heat" (i.e. a fire) it should be retired and destroyed due to possible negative effects to the heat treatment the carabiner underwent when it was made.
6) Has the carabiner been exposed to harsh chemicals or excessive corrosion? If your carabiner has been exposed to aggressive chemicals (like battery acid, petroleum-based fuel, ect.) it's a good idea to retire the biner. Likewise, any corrosion beyond the normal thin gray/white oxidation layer that forms on exposed aluminum should be grounds for retirement, especially if it starts to affect gate action (see #1).
In closing: Keep in mind that only YOU know what your gear has been through. If your instincts tell you that the gear is dubious, retiring it is a good idea. Confidence in your equipment is not only key to climbing at your limit but helps you stay relaxed and having fun.
On your new C4 Camalots it may appear that the cam axles are longer than you're used to seeing. This can be noticed by the amount of play, or the amount of side-to-side movement of the lobes on the axles. The play is there for a reason—to allow the lobes to move freely during use. This is intentional in the design and allows the cams to function properly in all conditions.
In almost all situations, provided the placement is sound (good rock, not too slick or flared), a Micro Camalot of size .3 and above, will likely be reliable when fully retracted (only problem here is that the unit may be hard to remove) to 25% retracted. With the .1 and .2 Camalots being so small, they start to lose the ability to hold a fall at about 40% retraction.
Sorry, but we don't offer this service. Aramide 5.5 mm cord is perfect for reslinging Hexentrics.
 In general, T-rated tools are usually defined as "intended for steep ice." Think Viper, Cobra, Fusion, Reactor—tools for climbing waterfalls and mixed climbing. B-rated are usually defined as "Ice tools other than technical ice tools." These are more along the lines of piolets for mountaineering, etc. Think Raven, Raven with Grip, Raven Pro, Raven Ultra, Venom, etc.
It gets slightly more confusing because, over time, the ratings and requirements have slightly shifted, so now it is possible, and common, to buy an ice tool that has a T-rated shaft, but a B-rated pick as well as a tool with a B-rated shaft and a T-rated pick.
So what do all these ratings mean, and why are they different? For simplicity's sake, consider that all tools have to go through the same regimen of testing to be certified:
3-point bend test on the shaft (to simulate rappelling off an ice tool as a dead-man)Strength of head/shaft interface in use directionStrength of head/shaft interface perpendicular to "use direction"Torque test of pick
The difference between a shaft or pick attaining a rating is that the T-requirements are higher, so in general a T component is more durable and stronger.
So which tool and pick is right for the job? A lot of that is personal preference. For mountaineering, we recommend the Raven, Raven with Grip or Raven Pro; for ski mountaineering, perhaps the Raven Ultra. For a combination of mountaineering with some gully climbing or moderate vertical ice, the Venom is a really versatile tool.
For technical climbing one of our tech tools is the obvious choice: Cobra or Viper with leashes, Fusion or Reactor if you want to go leashless. T-picks are tougher and can take more abuse (Titan and Fusion). B picks (the Laser) are intended for steep ice, and generally perform really well but would be less durable, increasing the likelihood that they could bend or break. Your mileage may vary depending on competence and technique.
Get yourself a round 1/8 inch chainsaw file and a good ski-tuning file. Have a good pick on hand to use as a reference. Don't use an electric power grinder, as they can overheat the pick and ruin the temper.
File the pick end first, trying to restore the original bevel angle, while not making a half moon shape out of the tip. Make sure you don't make the tip angle too steep as it will be very fragile; if it isn't steep enough, your placements won't be as secure. File the flat hook on the bottom, stroking outward from you.
Repair damaged teeth using the chainsaw file. Use the flat side of the chainsaw file to return the original bevel of about 45 degrees, but not on the first tooth. Go slow, and use the reference pick, as filing off too much is worse than filing too little. The pick will need to be retired when you start filing past the first 3/8 inch tooth.
Use wooden blocks in a bench-mounted vise. Get a small flat file (6" flat mill bastard) and a four inch "ignition file." It's a good idea to have another screw that's in prime condition for use as a reference.
Work on the worst tooth first. The outside round radius isn't super important, but make sure that it doesn't have any burrs. The vertical part of the tooth should be free of burrs as well, but make sure to keep the beveled edge intact and trending inward. This should be sharpened inward to crush and force the ice shavings inside the screw. Your goal is to restore the teeth to their original shape, with the tips in the same plane. Remove as little material as possible and avoid removing the radius in the corner. Touch up any burrs on the threads and pay particular attention to the starting thread. Finally, give the inside diameter a quick shot of WD-40. Always dry your screws with the protective caps removed and use the caps for transit.
The Fang was built around the spike and pommel of the Viper for strength and durability, and will not work on any other BD ice tools, or tools from other manufacturers.
Some very minor manipulating of crampon toe bails is acceptable to help it fit your boots better, but you have to be very careful not to weaken the bail by excessive or repeated bending. In most cases, it's easier and more effective to carefully modify the boot toe-welt with a file.
No. LED bulbs have no filament and are made of a super-strong resin, so the likelihood of them breaking or burning out is slim. However, if they do fail we encourage you to contact our Warranty Department:
Duracell 28L (lithium), Duracell 28A (alkaline), Black Diamond 6-volt replacement (silver oxide), 2cr 1/3 N (lithium), Kodak K28L (lithium).
Free Australia wide standard shipping on orders over $100.00* (ex GST)!
For all other orders we charge flat shipping rates of $10 AUD (incl. GST) per shipping address for standard shipping Australia-wide.
*Bulky items (such as large backpacks, ski poles, skis, crash pads, etc.) are charged according to the freight calculator during the check-out process and do not qualify for free shipping. They may also be shipped separately and take longer to arrive.
Sea to Summit Distribution cannot deliver Black Diamond products outside of Australia.
To enable us to process your refund, complete your return by following the steps on our Returns Portal. If you are unable to access the Returns Portal, please contact us.
The following items cannot be returned to us if you change your mind, the sizing is incorrect or if you feel that the product does not meet your expectations.
> Safety Equipment including:
- all personal protective equipment
- harnesses
- rope
- all load bearing equipment and accessories
- helmets
- slings
- carabiners
- belay devices
- hardware for life support such as ascenders, fall arrestors and descenders
> Clearance Items
However, if a product fails to meet a Consumer Guarantee (refer to our Warranty Policy) then this exclusion will not apply to a Product that fails to meet one or more Consumer Guarantees.
We do not accept an exchange of products.  If you purchased your Product through our website and wish to exchange it for a different product, you will need to return your purchase and complete the return process.